Gordon and Zozzaro Qualify for States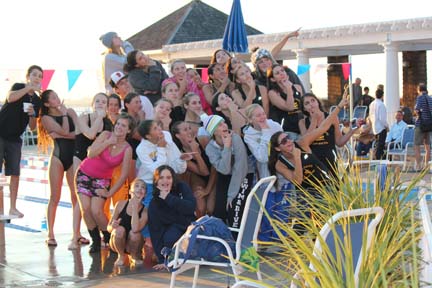 Junior Victoria Zozzaro captured the Nassau County diving championship at Nassau County Aquatics Center, November 4. Zozzaro will join Shannon Gordon, 500 and 200 freestyle, at the state swimming and diving championships November 22-23 at Ithaca, New York.
Zozzaro was tied for first after the first eight dives (out of 11). Then Zozzaro received a 9 on her second-to-last dive, her best score. That put her in first place. Last year Zozzaro was 7th in the county and then was 18th in the state. "Victoria has worked year round with dive coach George Taylor," said Wantagh head coach Chris Rafferty. "She won every dual meet this year, the relay carnival, the divisions and she goes to states undefeated this year." Zozzaro also broke her own school diving record.
Gordon, a senior, earned all county in the 200 and 50 reestyle, placing third, breaking the school record and qualifying for states with a 1:56.74. Gordon was fourth in the county in the 500 freestyle and qualified for states with her time of 5:10 from the divisions, which also broke the high school record.
Also at the counties two relay teams reached the county finals. The 200-free relay team (Lauren Schroeder, Nicole Charkowick, Jasmine Chu and Shannon Gordon) got fifth at the counties and broke a 23-year-old school record. That same group also broke a 23-year-old school record in the 400 relay.
Jasmine Chu, a talented freshman swimmer, qualified for counties in two events. Nicole Charkowick earned all division honors in the 50 freestyle. Lauren Schroeder qualified for counties in the 50 and 100 free. Gordon, Chu, Charkowick and Schroeder earned all division in the 200 free relay.
Senior captain Brooke DiMarinis qualified counties for 200 free and the 100 breastroke. Sam Scibelli qualified for the 500 free and Samantha Darling qualified for the counties in the 200 IM and 500 free. Meg Daley, Julia Laibach and Kristin Visconti will be in the 200 medley relay. Senior captain Jessica Rothe and Kelly Brown qualified for the counties in diving.
The girls showed their skills during the relay carnival. In the second event Wantagh got first place on the 500-yard crescendo relay.
As for the regular season, Wantagh got off to a 3-0 in the conference meets. The Warriors defeated Levittown, 102-72, and East Meadow 92-80. They had a really hard battle against Port Washington and unfortunately didn't win. They trained hard for their next meet against Hewlett and had an amazing win 64-38. In one of the biggest meet of the season against Farmingdale, the girls lost 55-47.
The last meet against South Side was a fun and close meet. Losing by two points was heartbreaking, but every single member on the team gave it her all. During this meet Zozzaro broke the school diving record. The girls finished this season 4-3.