Girls' Lax Team Defeats Garden City in Playoffs for First Time Ever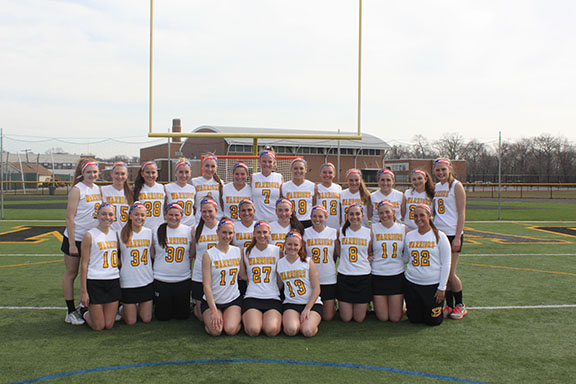 The girls' varsity lacrosse team has made history. After 12 long years, the Wantagh Warriors were finally able to defeat the Garden City Trojans (13-4) and to make the victory even sweeter; they earned their spot in the county championship game.
Unfotunately the Warriors (12-5) lost the Class B final to Manhasset, 15-8.
After losing to Garden City 8-7, April 3, on a goal scored with 3 seconds left in the game, the Warriors were eager to play the Trojans again. The girls bested the GC 7-5 in the Nassau County B semifinal game held at Adelphi. Sophomore Darcie Smith scored just minutes into the first half which gave the Warriors a quick lead that they would maintain for the entire game. Seniors Brenna Connolly and Paige Craig led the offense with two goals each. Sophomores Kaitlyn Cerasi and Nikki Sliwak each put up a goal as well. Craig and Cerasi dominated the draws 12-4. Earning these possessions was key part of the game. Senior Stef Wenz led the Warriors' strong defense along with juniors Shea Weber and Carly Cullen and sophomore Michele Smith. This group of defenders is one of the fastest that the Warriors have ever had. The girls played aggressive yet smart on defense, forcing Garden City to work for every shot. Goalie Grace Beshlian had an outstanding 14 saves. The final starter was Maddie Conway, a sophomore, whose quickness also helped negate GC's speed.
"It was a great team effort and a great team win, we were confident and knew we could do it so we did," said Craig. "We came out strong and never let them take the lead."
For Warriors' first-year coach Jaclyn Coyne the victory was made sweeter because because Garden City had won seven of the previous eight state titles. Assistant coach Bobbi Colavita, who founded the Wantagh program and had been its only previous head coach, was also elated at the victory.
The Warriors held the ball for the last four minutes, choosing not to shoot on an open net. The Garden City defense was working tirelessly to gain possession, knowing that if they allowed Wantagh to stall they would lose. But Wantagh prevailed. Holding the ball solidified the victory.
The semifinal loss marks the first time in 20 years that Garden City will not play in the championship game. And while the Trojans came into the game with three losses, two were to teams not from Long Island. Garden City always travels to other states to play the nation's best. It lost to Manhasset (16-2), the state's top-ranked Class B team, by a goal.