Girls' Lax Wins 1st County Title Thanks to Beshlian's 16 Saves, Gendels Scoring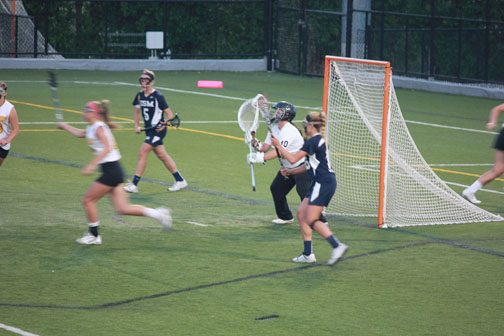 Wantagh girls' lacrosse has made history. Competing in their 12th Nassau County final, the Warriors got their first county title after defeating the top-ranked girls' team in New York and No. 3-ranked in the nation, Manhasset, 9-6. Manhasset had been undefeated (18-0) and the two-time defending Class B New York State champions.
But the Warriors amazing post season ended in the Long Island Championship (state quarterfinal) with an 11-10 loss to Suffolk B champ Eastport-South Manor. The Warriors trailed 11-8 with two minutes to go and rallied on a goal by Taylor Carson. Kaitlyn Cerasi won the draw and Nikki Sliwak scored to make it a one-goal game. With 45 seconds left Wantagh's Megan Gordon was battling for a loose ball and appeared to be shoved. However, no call was made and the Warriors couldn't get possession for the tying shot.
Wantagh defeated rival Garden City for the second year in a row in the county semifinals. Last year the girls lost 15-8 to Manhasset in the final, but this year they were back for redemption.
The Warriors (17-3) lost to both Garden City and Manhasset in the regular season which landed them the third seed. However they were not worried about those losses, as the playoffs were different and they were determined to win when it counted. After easy wins over Floral Park, 17-7, and Long Beach, 18-9, the girls beat Garden City 8-7. Junior goalie Grace Beshlian made 8 saves and Nikki Sliwak scored 4 goals.
"As far as the regular season, we came out flat during Garden City and we just didn't play our best," said second-year head coach Jacyln Coyne. "We knew if we used all the tools we had, we could beat them during the playoffs."
"Going into the finals we tried not to pay attention to the names on their jerseys and play our game," says junior Courtney Gendels. "We have great team chemistry which has been key to our success."
With Wantagh holding a 5-4 lead in the first half against Manhasset, Gendels scored three straight goals to give the Warriors an 8-4 lead at halftime. That would eventually provide the winning margin, but not without some incredible defense by the back line of Shea Weber, Michelle Smith, Carly Cullen, Emily Bauer and goalie Beshlian. Beshlian was particularly amazing in net, stopping point blank shots by the Indians and picking off centering passes. She finished with an incredible 16 saves, holding one of the best offenses in the nation to its lowest goal total of the season.
"Grace is an amazing goalie and the great relationships she has with her teammates are seen on the field," said Coyne. "They trust her to get the job done and vice versa. She was hot that night and it just fired everybody up even more."
Also scoring for Wantagh were junior Madison Conway with 2 goals. Junior Cerasi, sophomore Carson, freshman Kayla Conway and junior Sliwak each had a goal as well.
"It's a mental game, our biggest rival is ourselves," said Darcie Smith. "We know that if we play as a team we can beat anyone."
Cerasi also did a great job on the draws. "Losing to Garden City and Manhasset during the season really motivated us for the playoffs," said Cerasi. "Manhasset was trying to push the draws to their other players but Darcie and Ally (Murphy) did a great job helping to win draws."
The county title was especially sweet for assistant coach Bobbi Colavita, who founded the lacrosse program here in 1997, and was the team's only head coach until stepping down to the assistant position two years ago.