Golf Team Knows No Gender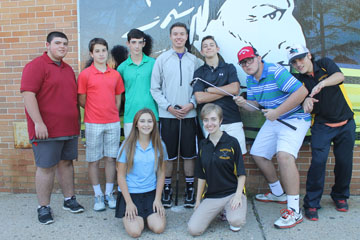 Faith Francioso and Alexis Ward, the first females to play on the Wantagh Boys' Varsity Golf Team, led the team this season.
Ward, a senior, was the team's captain and earned a big win versus East Meadow toward the end of the season. Her talent is just a sampling of what the other team members of capable of.
Sophomore Raul Fernandez, another core competitor for the team, proved his potential with his win over a Garden City rival at the Garden City Country Club. Fernandez is the only Wantagh golfer over the past two years to defeat a Garden City golfer.
The MVP of the team last year as a freshman was Francioso, who has been a varsity starter since 7th grade. This year she defeated South Side's best player on the foreign turf of Rockville Links Country Club. Soon after, she earned her match-best 40 over Sewanhaka on the front nine of Bethpage Green.
Francioso is a near lock to have qualified for her second-straight county tournament. Though golf is a fall sport at Wantagh, the county tournament is in the spring. "If the returning golfers work 1/6 as hard as Faith over the spring and summer we have a chance to qualify for the counties as a team next year," said Mr. Kravitz, who coached the team for the 7th year with Mr. Colavita.
The team has gotten stronger and the sophomores are stepping up. With players James Tucker and Kyle Hughes there is potential for a more successful team next year. "We have a solid core of young players who are only getting better," said Mr. Colavita. "We're going to do really well next year."
Though the team's record was 2-8, the coaches and golfers are excited about the next two years.