Wantagh Defeats Garden City in Conference II Football Semifinals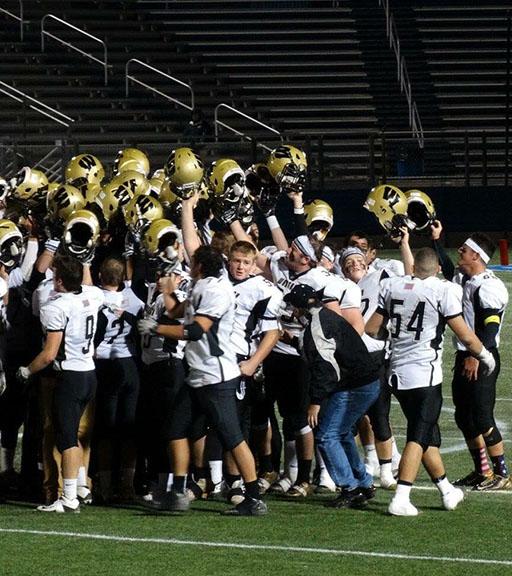 After losing to Garden City 19 straight times and being eliminated by them in six straight playoffs the Warriors finally defeated GC, 18-13, on November 13. The game took place on very windy and cold Friday night in front of a large crowd at Hofstra Stadium.
The game started bad, when Brian Haeffner of the Trojans ran 60 yards through Wantagh's defense and you could feel the crowd thinking "Here we go again." The drive was capped off by a 4 yard TD run by quarterback Tim Schmellzinger and put the Trojans up 7-0. But the Warriors bounced back and their defense wouldn't let up another point the rest of the half. Wantagh cut the lead to a point at the break after a long drive that running back Kyle Sliwak finished off with a 13-yard-touchdown run.
After the half Wantagh opened up with a 54-yard-run up the middle by Sliwak on the first play from scrimmage and this would lead to a touchdown pass from Rob Tucker to Jimmy Joyce to give Wantagh a 12-7 lead. Garden City answered right back with a drive of its own and retook the lead 13-12, but that's the last time it would get into Warrior territory.
In the fourth quarter, Wantagh QB Rob Tucker found Dylan Beckwith on a 60-yard play-action pass that gave Wantagh a lead it never relinquished. Wantagh's defense held the Trojans to no first downs on their last 2 possessions and punched the Warriors a ticket to the Conference II championship game.
The stingy Wantagh defense was led by Juniors Sean Colbert (8 tackles) and Joe Valenti (9 tackles). On the offensive side Sliwak had 152 yards on the ground and Bruno Surace had 82 yards. Through the air Tucker went 8-12 with 118 yards and 2 touchdowns. These performances set up the rematch with rival MacArthur November 20 at 7 p.m. at Hofstra.