Jets First Win over Giants in over Two Decades Earns Bragging Rights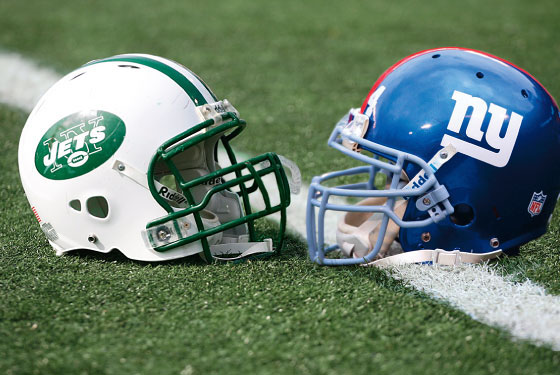 Nolan Foley, Reporter
December 8, 2015
The Jets and Giants went head to head in a rivalry match up that both teams needed to improve their chances of making the playoffs. You felt the anxiety and nervousness of the game that would take place at MetLife Stadium. The match up lived up to the hype as it was an instant classic that featured a fourth quarter comeback.
The game started off slowly start with back-to-back three and outs but then the Jets went on an eleven-play, six-minute drive capped off by a field goal to give them a 3-0 lead. The Giants' offense faltered early as the Jets held them to a punt, but the Jets couldn't capitalize and were held to a punt that would be returned for an 80-yard touchdown by the Giants Dwayne Harris. The Giants had a taken a 7-3 lead. The Jets fumbled on their next possession inside their own 30 and the Giants got a field goal which made it 10-3. The Jets answered by evening the score at 10-10 on a 25-yard touchdown pass from Ryan Fitzpatrick to Bilal Powel. But the Giants 10-point run to end the half put them up 20-10 at halftime.
The Giants and Jets traded punts to start the second half until the Giants had their longest drive of the game and had a chance to virtually put the game away with nine minutes left in the fourth quarter. With a fourth-and-two on the Jets' four-yard line Giants coach Tom Coughlin elected to go for the touchdown that would make it a three possession game and put it to far out of reach for a comeback.
Eli Manning was picked off by the Jets and Fitzpatrick and the Jets offense got the ball with 8:42 remaining down by 10. Fitzpatrick drove the Jets for 4:18 ending in a field goal to make it a one possession game.
The Jets forced the Giants to a three and out on their next series and got the ball back with 2:40 remaining and all three time outs. Fitzpatrick led another a drive, which included a fourth-down conversion where Fitzpatrick kept it himself for a 15 yard gain.
On first and goal at the Giants 9 yard line Fitzpatrick hit Brandon Marshall for a TD and the extra point tied the game with 32 seconds remaining.
This drive completed a 10-point come back and sent the game into overtime. The Jets won the coin toss and took the ball and drove down the field, and kicked a field goal which gave the Giants a chance to either tie the game or win it. They had a chance to tie it when kicker Josh Brown missed a 48 yard field goal.
The Jets increased their wild-card post season chances while the Giants somehow remained in a three-way tie for first in the woeful NFC East.