Schwartz Steps Down as Cheer Coach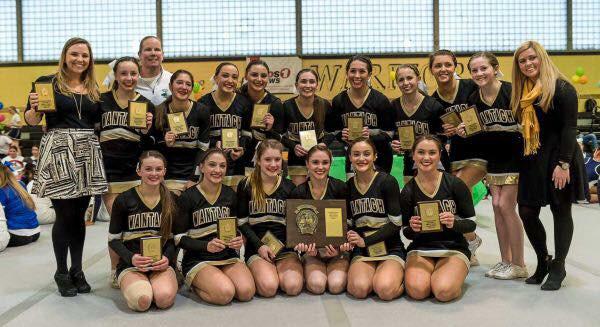 This year the Wantagh varsity cheerleading team went through a big change. Our coach, Jenna (nee Cucci) Schwartz, who coached the Wantagh varsity cheerleading team since 2008, left her coaching position. Members of the team were upset, not only because we were losing our coach, but because we were losing our second mom. Jenna not only taught us how to cheer, but she taught us how to be better young ladies.
"My goal is not only to help you succeed in cheerleading, but to help you succeed in life," Jenna always said. She and her husband Charlie impacted our cheerleading greatly. She taught us how to set goals and not stop until they were achieved, to work through things even when it gets tough, and most importantly you can't achieve anything unless you work hard and give it your all. Jenna had planned to end her coaching days for a while considering she is a married mother now.
Jenna was a very successful coach in addition to her positive impact on her athletes. She led the Wantagh Varsity Cheerleading team to the UCA Cheerleading National Championships in Walt Disney World, a total of 4 times making it to finals 3 times and placing 8th in the nation(2014), 4th in the nation(2015), and 11th in the nation (2016) in the Small Varsity Division II category. She led the team to many other victories at local sectional competitions and invitationals.
Her other accomplishments include: UCA Regional Champions in 2013, Small Varsity Division I Nassau County Champions in 2016, and 5th place in the NYSPHAA Cheerleading State Championship in 2016.
"Cheerleading has impacted my life tremendously," says Jenna whose father, Michael Cucci, is a long time Wantagh Board of Education member, a past president and current vice president. "I love cheerleading because it is a team sport so it teaches you the importance of teamwork and working with all types of people."
Jenna also met her husband through cheerleading. "I love coaching for the relationships I build with my athletes," she says. Jenna works as a family and consumer sciences teacher in Babylon school district, and will now be coaching the Nassau Community College cheerleading team, which will be less demanding than coaching the Wantagh team. Jenna looks forward to spending more time with her family.
Matt Schneyer will take over the cheerleading coaching duties at Wantagh this year.