Girls' Volleyball Team Wins Conference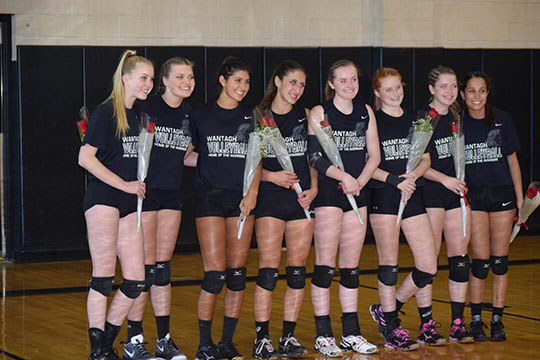 The girls' varsity volleyball team celebrated their senior day with victorious revenge on Southside, 3-1, October 28.
The theme of the day was "Swimming with our seniors." The gym was decorated with Finding Nemo and under the sea themed posters with the senior girls' names on them. The senior's names were announced and they received roses along with a poem read by junior Gab Iannuzzo honoring the seniors and their accomplishments.
Wantagh won 25-21, 25-23, 15-25, and 25-15. Captain Jillian Graham had 19 kills, 9 digs, and 7 blocks, and Captain Christina Weir had 18 digs. The girls provided leadership throughout the team's overall very accomplished season. Weir said, "This season especially has been amazing because we are all so close. The juniors and sophomores put so much effort into making the senior game more than I could have ever hoped for."
Earlier in the season in a conference match versus South Side Wantagh lost, 3-0. But in the Baldwin Tournament Wantagh defeated South Side, 2-1, in a non-conference best of three.
"We have been looking forward to senior day all season although it is sad that our high school careers are coming to an end," said Graham. "Our parents, coaches, & teammates made the day truly unforgettable & we are very grateful."
The other players played in this game exceptionally as well. Carly Sullivan and junior Sarah Corry had 8 blocks each. Abby Cullen with 7 kills, and Olivia D'Antonio with 8 digs. Also playing well were setters Shannon Hagan and Kayla Rende. The team is coached by Dan O'Shea, who is filling in for Coach McKeefrey, who is taking time to spend time with her young children.
The girls are conference champs with a record of 15-1 and look to continue to improve their stats in the Nassau County A semis vs Lawrence High School in Massapequa, November 7. If the girls continue their winning streak they move onto counties at Old Westbury verses either Floral Park or South Side, November 9.