Legendary Women's Basketball Coach's Legacy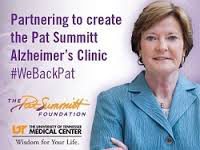 Pat Summitt was a legendary women's basketball coach at the University of Tennessee. She led the Volunteers to eight national titles in her 38 seasons at the university. Summitt held the record with 1,098 victories the most in Division 1 women or men's college basketball history. She helped Tennessee become one of the top basketball programs in the country. From 1996 to '98 Tennessee became the first women's team basketball team to win three national championships in a row.
Summitt had a desire for the game like no one else. She devoted pretty much her whole life to the game. Her determination and passion inspired many young girls in the game of basketball.
In high school her father moved Pat and her family across the country just so she could play on a high level high school team. She continued her career at the University of Tennessee at Martin where she graduated with the school's all time leading scorer with 1,045 points. During Summitt's junior year of college she played with the US team in the World University Games. In 1984, Pat Summitt coached the US national team to gold. Summitt was also named Sports Illustrated's Sportswoman of the Year in 2011 and honored with the Arthur Ashe Courage Award at the 2012 ESPYS.
In 2011, Summitt found out that she has Alzheimer's. Summitt battled through the disease and still coached through it but eventually had to give up the game she loved. Summit treated the disease with determination, just like she did with every opponent she faced.
On June 28, 2016 Pat Summitt died. She died at the age of 64 after a 5-year battle with Alzheimer's. This was a very sad day for everyone in the basketball community. A legend who so many players, coaches and fans had looked up to had passed away.
In 2011, Summitt founded The Pat Summitt Foundation, with the dream of finding a cure for Alzheimer's disease.