Wantagh Caps Undefeated Season with Long Island Championship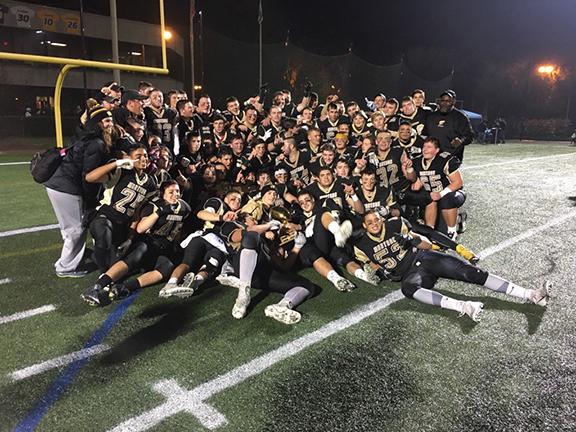 Wantagh won the Long Island Championship over East Islip in a thrilling 21-14 game with its defense snuffing out a last-gasp Redmen drive, in front of over 5,000 fans at Hofstra, November 25. It was the Warriors second Long Island Championship, with the first title coming in 2001.
Coming into the game Wantagh was not expected to be able to keep up with the high-powered offense of East Islip (9-3) that upset Sayville the week before in the Suffolk County finals handing Sayville its first loss in two years. Wantagh, which finished 12-0, had a stingy defense that hadn't allowed a point in its first three playoff games, which led the media to believe this would be the game of the weekend.
East Islip finally broke the Warriors' shutout streak as it drove on its first possession into the Warriors' end zone to take an early 7-0 lead. Wantagh answered right away as Tom Rohan caught a 30 yard-touchdown pass from Jake Castellano. Mike Piergiovanni's first of three PATs tied the game. On East Islip's next possession Jimmy Joyce made a ridiculous one-handed interception that landed him the fourth spot on SportCenter's Top 10 plays of the day.
After the turnover Wantagh would finish the drive with another touchdown from Rohan for its first lead at 14-7. East Islip would make it 14-14 late in the half. Wantagh would once again take the lead before the end of the half with a 2-yard run by Junior fullback Gavin Casey which would be a lead it would never give up. The second half was all defense for both teams which included an interception by Sean Colbert on Wantagh's own 2-yard line late in the third quarter. East Islip had chances the entire second half to score but Wantagh, which had the stingiest defense on Long Island, held the Redmen to no points in the second half and led the way to a 21-14 Long Island Championship win.
The team, led by Coach Sachs, now is nominated for the Rutgers Cup, which goes to the team that has the best season in Nassau and Suffolk Counties.