Michael Mauti, of the New Orleans Saints, is More than Role Model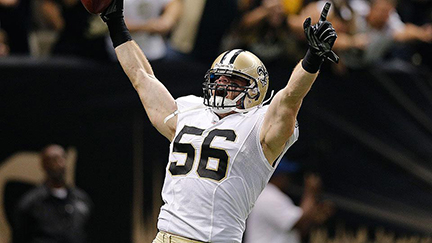 Michael Mauti, a player of the New Orleans Saints, is known for a multitude of things. The 26-year-old is the captain of the Saint's special team, who stands out among his peers for his amazing punt-blocks and his leadership qualities. Mauti is also known for speaking to the press, as a captain of the football team, during the Penn State Scandal. I, however, know him as my aunt's nephew. I have to point out though, that I am not blood related to my aunt, so I have no familial connections to him.
So far, Mauti, who grew up in Louisiana, has had an extremely successful football career. In 2013, he was drafted by the Minnesota Vikings. About a year ago though, he was drafted to the Saints as a linebacker. I was with his sister the day he got drafted and she was already buying a tickets for the first game. The entire family shared this mentality, each member being supportive in their own way. Michael's father was a wide-receiver for the Saints, leading a very successful career. Starting this season, Mauti has just been voted the captain of the special teams, which is an accomplishment he is very proud of.
Unfortunately, Mauti has experienced ulcerative colitis, which means that he experiences inflammation in the inner layer of his small intestine. He tried to hide it for the season, playing through the pain and enduring strenuous routines. Mauti was forced to sit out the rest of this year's season. During an interview for The New Orleans Advocate, Mauti said that, although he found this news disappointing, he realizes that he must keep his health and the future of his career in mind.
The men of the Mauti household have all gone to PSU for football. Michael's father, Rich, and brother, Patrick, have played wide-receiver for the the Nittany Lions. As you can imagine, the whole family was affected when news of the Penn State Scandal broke. Michael adapted the role of the team's spokesman during this period. Jerry Sandusky, an assistant coach of the football team, was accused of the sexual abuse of multiple children. He was convicted and sent to prison for the rest of his natural life. American families were shocked to hear that a trusted coach had committed such a heinous act and gotten away with it. The school at large took a hit. Michael Mauti stepped up and united his team against public opinion. This is just one in many cases, where he has assumed such a leadership role.