Francioso Tees it up at Pebble Beach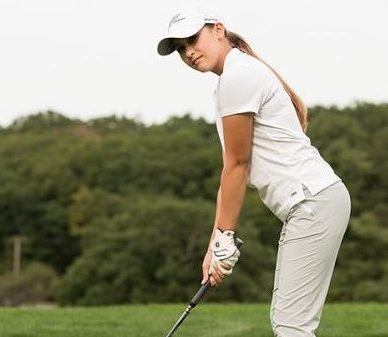 Faith Francioso, a junior at Wantagh High School, traveled to Pebble Beach, California to play with a top Senior pro in The First Tee Nature Valley Open this past September. Francioso, 16, is a part of an organization called First Tee. As a member of this program, she is exposed to many different opportunities.
Francioso had applied for this tournament in previous years, yet this was her first time selected. Francioso, who was ecstatic, says that Pebble Beach, which has hosted five U.S. Opens and one PGA Championship, was by far the most beautiful course that she's played.
Francioso has started on the Wantagh varsity boys' golf team since she was in 7th grade. She challenges herself and says that playing against top male golfers no longer intimidates her, but motivates her to work harder. She also maintains a 4.0 GPA. Francioso mentors young golfers at The First Tee. Not only does she teach them golf skills, but life skills to better themselves off the course as well. Francioso hopes to play competitively in college and is currently in the process of looking at potential schools.
Francioso's inspiration is legendary golfer, Arnold Palmer, who died this past September at age 87, because of his skill, character, and role in the sport. She hopes to eventually play St. Andrew's golf course in Scotland, also known as the home of golf.
Francioso's favorite part of golf is strategizing since each course she plays presents a challenge. "No course is the same," says Francioso. "I need to be able to perform a variety of different shots." In practice, she focuses her energy on her swing to make sure that she continues to improve in all areas of the game. She also hones in on her accuracy, as it is an important factor in her game. Playing on the varsity boys' team, accuracy is significant because it makes up for the distance that the boys are able to hit the ball.
"Faith is an extraordinary golfer," says Mr. Kravitz, who has coached Francioso her entire Wantagh career along with Mr. Colavita. "Each golf season she impresses me with her accomplishments. This season I was astounded how she beat the No. 1 golfer from nearly every team we played. These are boys who hit the ball significantly further than her and are very low handicaps. Sometimes I would think she should play at her the No. 2 spot but she proved to be very competitive with outstanding boys her age."
Francioso qualified for her third straight boys' Nassau County championships, which while golf is a fall sport the two-day county tournament is in the spring.
"Looking back at my time in Pebble Beach, it was an opportunity of a lifetime," says Francioso. "I was able to play one of the most prestigious golf courses in the world, alongside The First Tee's best juniors. This experience is something I have worked hard towards for many years and I am happy to have reached my goal."