Sportsnite Captains are Named – It has Begun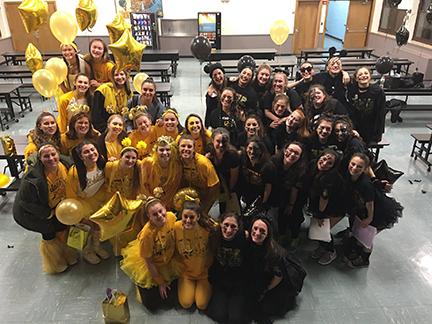 It's 2017 and about half of the students in Wantagh High School have one thing on their minds: Sportsnite on March 10.
The overall captains for Gold are Alyssa Sinacori and Alex Andreau. The Black overall captains are Courtney Cardona and Alyssa Augello. This year there were a lot of participants in the running for overall. Being overall takes a lot of time and effort just by applying you have to create a binder with a theme including songs and costumes, also get letters of recommendations and hold a certain GPA.
As each year goes by some students, faculty and administrators get frustrated by the commitment of Sportsnite. Some teachers are saying it distracts the students and is too much work. After playing sports in high school, I can say sportsnite creates an equal amount of work as any varsity sport.
What many people forget is what Sportsnite does for the girls (and in the past three years a few boys) involved. Being on Sportsnite gives you an instant bond with a great amount of classmates no matter what team. Sportsnite teaches us how to be responsible, how to be a leader, and gives us something to work for.
This upcoming year will be my 4th year on Sportsnite. I am a Blackie, but no matter what team, Black or Gold, I can honestly say I've never seen a group of people work so hard for something. No matter how many times a day we will hear it's stupid or annoying we all know how amazing Sportsnite is and how much it teaches us. Mrs. Brown and Mrs. Sales are back as the faculty advisors.