Baymen Heating up this Winter on the Ice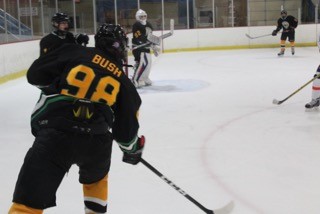 Wantagh is a town obsessed with its sports' teams. One underrated team is the Baymen ice hockey team. Unlike other school teams, the ice hockey team is a club and receives no funding from the school. Composed of Wantagh and Seaford high schoolers, the Baymen have games and practices every week usually at the Newbridge Arena in Bellmore. The next game is Friday January 13 at 6:45 pm vs. Bellmore/Merrick at Newbridge Arena.
Tyler Kempner and Mark Abramson coach the team. "Coach Mark is funny and a very good motivator in the locker room before we go out on the rink, " said W.H.S. senior Anthony Feruggio. These coaches are admired by the players and create a positive environment for the team.
Not only do the players look up to the coaches, but they also look up to their captains. One captain is John Bush, who has played in 10 games and leads the team with 8 goals as of January 5. The assistant captains from Wantagh are John Fitting who has 1 goal, and Justin Rooney who has 4 goals. These team leaders are very good and keep the boys motivated at practice and at games.
Last year was more of a rebuilding year for the team. This year they have a very good chance of making playoffs. The team consists of some very talented forwards and a solid defense consisting of Wantagh students senior Liam O'Leary, juniors Matt Scherer and Kieran Baisley, and sophomore John Coltellino. Other Wantagh students who play are Noah Daniels, Liam Garrity, Johnny King, Mike Linekin and Mike Sperlazza.
Over the holiday break, a number of the Baymen players played open ice hockey at Long Beach Arena with Mr. Kravitz, a long-time Wantagh English teacher who has played recreationally for nearly 30 years. Joining Kravitz were Feruggio, Baisley, Scherer, Connor Green, Johnny King and non-Bayman Zach Candela.
"I was truly impressed with every one of the boys' hockey abilities," said Kravitz, who grew up in Philadelphia and is a huge Flyers fan. "Anthony Feruggio can really blast his slapshot. Connor Green skates like Bobby Orr. Kieren Baisley is super fast with great hockey sense. Matt Scherer skates well with his head up and kept passing to me, which you've gotta love. Zach Candela was an all-around amazing player and Johnny King, while only a freshman, was hanging in with the big boys."
Mr. Kravitz went to a Baymen game in December as a fan and was impressed as the team overcame a 3-1 deficit against Manhasset and won 5-3. John Bush scored four goals and John Coltellino and Liam O'Leary had a strong games on defense.
"The hockey game was a lot of fun," said Mr. Kravitz. "I hadn't been to a Baymen game in about decade and I was impressed with how well everybody skates and how the team overcame adversity."
http://wantaghseafordbaymen.com/news.php?news_id=1439858