Family Feud – Harclerode vs. Teresky in Varsity Basketball Battle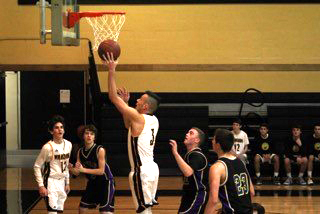 Every Wantagh basketball season Coach Hunter likes to develop a difficult non-league schedule to prepare his team prepare for its regular season. This schedule has lately always included Suffolk County's Sayville. Sayville has a connection to Wantagh as it is Mrs. Harclerode's home-town and her husband is the assistant coach, and her son is the starting center on the team. And there's one more connection, Mrs. Harclerode's nephew, senior Anthony Teresky, is the starting shooting guard on Wantagh. So this season's Sayville-Wantagh game, December 15, also included first cousins playing each other.
"It was great playing my cousin growing up together," said Teresky, who finished with 12 points in the game which was second most for the team. "Playing each other in our senior seasons was memorable."
Joey Harclerode, who has been recruited by many colleges to play basketball such as S.U.N.Y.New Paltz, looked back on the experience in a positive way despite losing the game.
"It was just a surreal experience being able to play against the kid I've been playing with my entire life," said Harclerode. Harclerode who averages 20 points per game is a cornerstone for the Sayville team that's looking to make a run in the playoffs.
Even though the boys may have enjoyed the experience it may not have been as easy for the parents of the boys. "I have three favorite boys in the world, my son Joey and my sister's boys Anthony and Nicholas Teresky," Mrs. Harclerode. "Therefore rooting against Wantagh was difficult. I am very proud of Joey and Anthony."
The game was a non-league game so it doesn't count towards either team's playoff chances but it is always very heated and intense. The game started off with Sayville jumping out to an early lead as they were up a 13-10 at the end of the first quarter. The Warriors kept it close through the half as Sayville only led by 2 points at the break. The second half was all Wantagh however as they outscored Sayville 32-19 in the second half leading to a 52-41 non-league win for Wantagh.
The Warriors were led by senior Sean Gutfleisch who had 20 points and 8 rebounds. The Wantagh defense held Joey Harclerode to 8 points on the night which is his season low. Both teams now will embark on what hopes to be successful seasons in Suffolk for Sayville and Nassau for Wantagh.