Hunter to End 14-year Boys' Basketball Coaching Career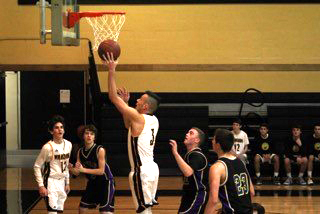 Boys' basketball began the season strong and finished strong enabling Coach Hunter to end his coaching career at Wantagh with a playoff appearance.
The team won four out of its last five games, including a thrilling 49-48 win over South Side, knocking the Cyclones out of first place.
But after the playoffs Hunter will end his nearly decade and a half of coaching basketball at Wantagh.
"This program is not at its potential, which makes this one of the hardest things to walk away from," said Hunter, who has been the solo varsity coach since 2009, after coaching JV for six years. "I hope my players at least know that I battled with them, sacrificed with them, and just wanted them to be men…responsible, dedicated, selfless, humble."
Wantagh boys' basketball streaked to a 2-0 conference start, and after losing five straight conference games finished strong to make the playoffs for the first time since 2012-2013. It all made for a special season for the team and the program as Coach Hunter bows out.
"Stepping away has been one of my most difficult decisions for many reasons," said Hunter, an art teacher who played basketball at Seaford. "I'll miss so many aspects of this basketball family. But my children only have one childhood and don't want to miss it."
Led by their senior captains Sean Gutfleisch, T.J. Sullivan, and Connor L'epplattenier, the first part of the schedule was all non-league games against teams either not in their conference or from Suffolk County. The Warrior's first game of the year was against Valley Stream South in the annual Wantagh Tournament where the Warrior's prevailed in an exciting 56-45 upset win. Gutfleisch led the way for Wantagh with 23 points and was followed by Anthony Teresky and Sam Goldfarb who each had 8 points. The Warriors then fell in the championship game of the tournament to Syosset 75-40. The team would finish the rest of their rigorous non-league preseason games with a record of 3-3 which included a win over Sayville 52-41, where Mrs. Harclerode's son Joey was the star (see "Family Feud" on page 13).
The start of regular league play for Wantagh was prosperous as it won its first two league games against Roslyn and Division. Against Roslyn, Gutfleisch again led the way again with 23 points. Teresky was second on the team with 13 and L'epplattenier followed him with 11.
"I've been so privileged to coach varsity in this school and alongside so many strong coaches with phenomenal programs," said Hunter. "I felt like I had an apprenticeship under Coach Espinosa. I'm so grateful that my parents have been at almost every game. Even my grandmother, who has cheered and booed me, has been able to be a part of this ride."