Girls' Lax Team Fights Through Tough Schedule; Shoots for Playoffs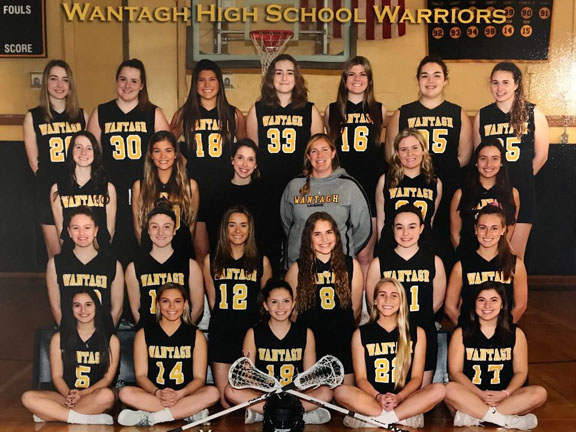 The Wantagh girls' varsity lacrosse team approaches the end of its season with an overall record of 4-5 and a Conference I record of 2-5.
The girls defeated a competitive Cold Spring Harbor 7-6 March 29. Due to decreasing enrollment, CSH will be one of the Warriors' main competitors in the Class C playoffs. Last year Wantagh defeated Cold Spring Harbor in the Class B Nassau County final.
This year goals were scored by Wantagh's Kayla Conway (3), Sabrina Caruso (2), Ashley Gendels, and Catherine Russo. Assists were made by Jill Balkunas and Caitlyn Kearns. The Warrior's senior goalie, Katie Conklin, made 8 saves. Russo scored the winning goal on a free position with two minutes left.
The team's captains are Russo, Conway, Kaufmann and junior Danielle Carson. The team's first-year head coach is Lauren Schwalje, who played at Georgetown and Stonybrook. She is assisted by Jamie Guarniere, who formerly coached at Island Trees.
The Warriors defeated South Side 15-11 April 6. Goals were scored by Conway (6), Caruso (4), Kaufmann (2), Russo (2), and Kearns. Assists were by Mia Connolly, Anna Kaufmann, and Russo. Conklin made 8 saves. Conway had six goals and Caruso ripped in four.
The team beat Port Washington 9-8 April 14. Goals were scored by Wantagh's Conway (4), Kearns (2), Connolly, Kaufmann and Russo. Assists were by Caruso (2), Balkunas, Kaufmann, and Kearns. Conklin made 8 saves. Kearns scored with 3:31 remaining, which gave Wantagh a 9-7 lead. Carson, one of the team's best defenders, caused a turnover on the final Port Washington possession to seal the win. Kayla Conway scored 4 goals. Also contributing on defense are Gendels, Allie Alaimo and Angela Labenberg.
The girls edged Sacred Heart 8-7 April 20. Goals were scored by Wantagh's Conway (5), Caruso, Gendels, and Russo. Assists were by Caruso (2). Gendels caused a turnover with 14 seconds left and passed to Conway, who ran up the field and scored her 5th goal of the game. With 5 seconds remaining, she broke a tie at 7 in this tough non-league clash. Conklin made a key save with 1:23 left to go to prevent a potential go-ahead goal.
The team lost to Syosset 9-6, Long Beach 4-3, Massapequa 11-2, North Shore 9-7, and Manhasset 16-5. Prior to last year Wantagh needed to be able to defeat Manhasset and Garden City, but that's not the case this year. The Warriors are in the draw to repeat being county champs.
"We have new players," said Russo, "but we are starting to learn to play together."
The Warriors finish the season versus Garden City on May 3, West Babylon May 5, and Oceanside on May 7.
"I feel like we've been having a pretty good season and I feel like we've just clicked as a team," says junior goalkeeper Meghan Kirk.
The girls have had to adjust to new coaches for four straight years. But Schwalje and Guarniere know the game well and are hoping to lead the girls through the playoffs.