We Left Our Hearts in Snowy Minnesota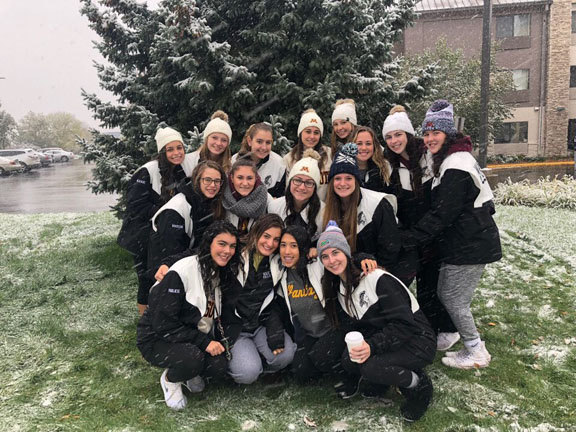 While basically everyone in Wantagh was sleeping, the girls' varsity volleyball team traveled to Wantagh High School at 4 a.m., October 12. It poured. Since we had to be at the school so early, there was a concern that some of us wouldn't wake up in time. Luckily by 4:15, all 16 of us and our 2 coaches,Dan O'Shea and Susanne Hoffmann were on the bus. This meant that we could finally leave for Minnesota, something that we had been waiting for for 8 months.
We got to MacArthur Airport at 4:45 a.m, which left us just enough time to catch our 5:54 flight. in Baltimore. After a Baltimore layover, and a 2-hour flight, we landed in Minnesota.
We got a tour of the University of Minnesota athletic facilities and we also saw the Golden Gophers women's volleyball team play. Watching their team was an amazing experience, it definitely inspired us. We loved their gopher mascot. W.H.S. senior Katie Steele was so smitten with the gopher she ran down from the stands to take a picture. In all of her excitement, she left her phone down by the court, luckily a police officer found it and gave it back to her.
The next day, we played in a tournament with local Minnesota schools. Every team that we played had at least 5 girls over 6-feet tall. Teams from Minnesota tend to be much better than New York teams, however we played well. In pool play, we went 1-1 and we ended up finishing 5th out of 10 teams. Playing a tournament in Minnesota was a great experience and we also became friends with many of the Minnesota girls. The host of the tournament even said, "You guys changed how we view East Coast volleyball."
To finish out the trip, we went to the Mall of America. Not only did the mall have duplicates of every store, but it also had an amusement park right in the middle. It snowed, of course! We hoped for a flight delay so that we could stay an extra day, but it was on time.
We arrived at 11:30 p.m. at MacArthur Airport. Then we got on a bus and drove back to the high school. Nobody was really happy to be back at school, in fact there were tears. It was the trip of a lifetime and none of us will ever forget it. Katie Steele, and a few more girls, might even apply to the University of Minnesota.