We Won Wantagh's First Volleyball State Title Since 2001— The Year the Seniors Were Born.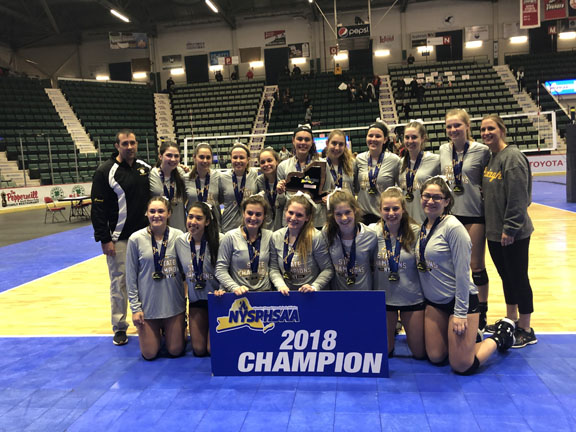 Since August, the girls' varsity volleyball team worked towards one goal: making states. And we achieved that goal, thanks to first-year assistant coach Susanne Hoffman, who implemented a "no fear" mentality; the closeness of the team, we had each others backs from day one; and the tactics of head coach Dan O'Shea.
We finished the regular season with a record of 11-1, beat Bethpage in the 1st round of the Nassau County Class A playoffs, beat Hewlett in the quarters, Mineola in the semis and Lynbrook in the county final.
In the Long Island Championship we took on Kings Park, the 7-time defending Long Island Champions. We fell behind 0-2 putting the dream in jeopardy. However, we won the 3rd, 25-22, and kept the momentum going and then took the fifth set, 25-18, ending the incredible streak of the Suffolk champs.
We were headed to Glens falls for the New York State Championships.
I always believed we would win the LIC and get to states. But once there I just hoped for an  amazing, competitive experience that my teammates and I would be proud of.
At the states banquet, my fellow captains, Julia Pugliese and Kayla Rende, and I made a speech about Wantagh High School, our teachers, and the team.
We first played Burnt Hills Ballston Lake, and we split with them. Then we played Cornwall, and we also split with them. Next up was Niagara Wheatfield, and we needed to sweep them. We won the 1st 25-14, but fell behind in the second set 18-12. We came all the way back to win 25-22, securing a spot in the state finals — once again against Niagrara Wheatfield, which is next to Niagara falls, practically in Canada.
We lost the 1st set to them 23-25, won the second 25-22, but then lost the third 20-25. We'd overcome deficits all season. We could do it again. We won the 4th 26-24, then were winning 18-13 in the 5th set, but then Niagara Wheatfield tied it up at 23-23. Coach O'Shea had a timeout remaining but he said that he looked at the back row and saw a fire in our eyes and could tell that we were not going to lose. We went up 27-26.
It was championship point for Wantagh when Kayla Rende set Katie Steele who tipped it over, causing a Niagra player to dive at it with one arm. But Niagara couldn't come up with it. An immense celebration broke out. We had won Wantagh's first volleyball state title since 2001, the year the seniors were born.
Grace Riddle and Kayla Rende earned All Tournament Awards. I earned the All State MVP award. We weren't even considered one of the top 10 teams on Long Island, so how did we win the New York State Class A Championship?
The answer: We were a family. The love we have for each other is unique. You can't tell family based on stats or numbers. We learned that the power of being a team and believing goes a really long way.
The bus ride back was at first filled with endless smiles and lots of dancing, but once it finally set in that the we would never play together again, there was not a dry eye on the  bus. To know that everything would just be a memory now, was really hard. Our incredible victory suddenly felt bittersweet.
"We want to thank our coaches, who taught us to always work hard and to take risks," said Tori Spencer.  "Nothing is ever given to us in life, so if we want something, we have to work for it. On the court and in life, you have to be uncomfortable at times in order to get far."   
"We also want to thank our parents for their unwavering support," said Jenna Loew.
Last, we want to thank our teachers. To be able to look in the stands at our games and see teachers like Mr. Ruane, Mr. Widmann, Espo, and Ms. Fugazzi and all of our supervisors, means more than we can say. To be greeted with all the hugs and congratulations from so many teachers, was just amazing and we appreciate it so much.
Wantagh Volleyball will be graduating 6 seniors: Kayla Rende, Grace Riddle, Jillian Laino, Julia Pugliese, Katie Steele, and Danielle Coppola. 
There was just a different vibe this year. We were always laughing with each other and having dance parties. We were a goofy group. But when we got on the court, it was go time.
So, please, one last time: Thanks for "merhing" with us.