Girls' Basketball Reaches Nassau Class A Final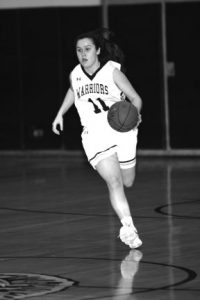 Wantagh girls' varsity basketball team made it to the county finals this year for the first time in five years.
In the first round of the Nassau County Class A playoffs Wantagh topped North Shore, 53-45, on February 15. Wantagh' s top scorer in this game was Morgan Flaherty.
Then the girls captured a 54-40 win against Jericho in the next round. Megan Lucey lead the team with 12 points.
In the county semis, Wantagh had a late surge to overcome Manhasset, 42-35. Again  Morgan Flaherty led all Wantagh scorers with 14 points. Cait Albanese had 10 points.
The county final game was played against Sewanhaka at Farmingdale State College on Sunday March 3. The Warriors lost 62-46. Caitlin Albanese, Julia Wilkinson and Lucey helped the Warriors take a 14-4 lead. The game was tied at the half but Sewanhaka pulled away for good in the third quarter. The Warriors finished with a 17-6 record.
Wantagh's top scorer in the county final game was Albanese, with 13 points. Sewanaka's top scorer was Carly Bolivar with 26 points.
Captains Marykate DelGais, Caitlin Albanese, Brianna Derham and Megan Lucey along with Coach Bujacich and Coach Colton were able to lead the team to a successful season and thrilling playoff run.
"Everyone fought hard in the beginning and it was a close game throughout, but things weren't falling for us in the second half," said  DelGais of the county final.