Warriors Take No. 3 Seed into Playoff Semis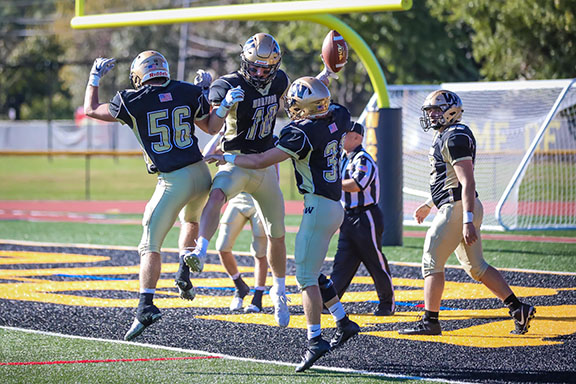 Last year, the Wantagh Warriors football team ended the regular season with a 5-3 record. This year's squad improved to 6-2 with a 33-13 win over Roosevelt in the final game giving Wantagh a three-game winning streak going into the Conference III playoffs.
Wantagh's only losses were to the undefeated Plainedge Red Devils and to Southside, 27-24. Wantagh has had some great wins like a 42-0 shutout over Lynbrook. They also defeated Valley Stream North 47-14 and topped North Shore, Mineola, and a nail-biter 21-20 victory over Bethpage at Wantagh's Homecoming.
Led by quarterback Peter DelGais with his star outlets of Thomas von Bargen, Michael Lombardi, and Nick Teresky, how could this offense not be successful? One huge reason that von Bargen and Teresky have combined for 19 TDs is the play of the offensive line. They don't get the hype but without a great O line the skill players don't succeed.
The offensive line for Wantagh is Jack Benedetto, Mikey Rodin , Adam Kissinger, Liam Casey and Edwin Buhler. "We've communicated a lot, do our techniques right, and trust each other," says Rodin.
Wantagh also has a strong special teams unit with kicker Michael Coney, who was 4th overall in kicking and 3rd in field goals in Nassau County. Coney, who is also an all-county soccer player, came in clutch to win Wantagh's homecoming over Bethpage.
The Warriors also has a great defense. They shutout Lynbrook and held first-place Plainedge's high-powered offense to its lowest total points of the season, 25.
Two key performers on D have been cornerback Ryan Carlo and Lombardi.
It's been another great tactical season by head coach Keith Sachs and his assistants Tony Carter and Jim Morrow.
"With Playoffs starting I feel really confident in our teams chances," said DelGais. "But right now we're focussed on Roosevelt."
In the first round of playoffs Wantagh defeated Roosevelt, 27-21, in overtime. von Bargen scored the game-winning touchdown on a 15-yard run. Teresky had 141 yards in rushing. Lombardi broke up a fourth down pass in the endzone on the first possession of overtime to set up the game-winning score. Roosevelt's starting quarterback Idris Carter, the son of Wantagh's assistant coach Carter, threw a 5-yard TD pass with 27 seconds left to get within 21-19, then Carter passed for the 2-point conversion to tie it at 21. Wantagh takes on Southside November 15 in its 21st playoff semifinal appearance in the past 23 years, according to Coach Sachs.