Boys' Hoop Team Jams into First Place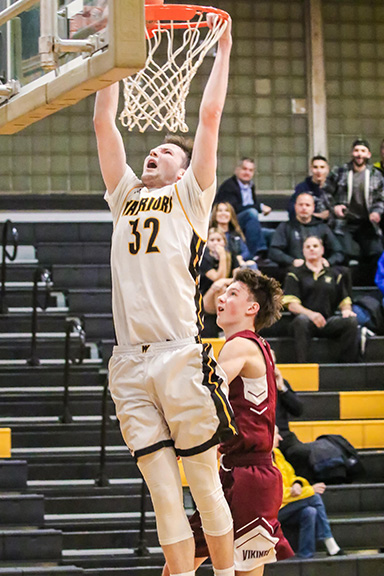 The Warriors boys' basketball  went 13-1 Conference A4, to gain a share of a conference title for the first time in 47 years. Overall the team is 16-3. The team is led by Coach Harclerode along with captains Brandon Goldberg, Nick Teresky, and Ethan Insinga. And Wantagh tied with Bethpage for that coveted title.
"We are playing at a high level right now," said Coach Harclerode, husband of the popular social studies teacher Mrs. Harclerode. "The team is focused and driven. They have excellent chemistry that is helping us win games."
The team began its conference season with a 63-48 win against North Shore, where Goldberg tallied 28 points, 16 rebounds, and 5 blocks. Two days after that big win, the team faced a tougher opponent, Bethpage. It was a tight game with the final score being 56-52. Nick Teresky scored 15 points, leading the Warriors to the win. The Warriors faced Plainedge on January 10, capturing yet another win for the charts. The final score was 62-53 with Brandon Goldberg tallying 25 points, scoring the most of anyone on the court.
"This team has been very motivated all year," said Nick Teresky, who is the nephew of Coach Harclerode. "We are looking to be the first (boys' basketball) team since 1973 to win the conference. Everything about this year has been electric. We have the best circus on Long Island. We wouldn't be here today without the environment we play in."
Coach Harclerode had set up a tough non-league schedule to get the boys ready for their conference season. They went 3-2 in non-leagues, but when the real season started, they are yet to be stopped. Their two losses were against very skilled teams, Jericho and Mepham. It was an extremely tough loss against Mepham with the Warriors losing by three points after Mepham hit two free throws in the final minute to complete a late comeback.
For the Warriors, Brandon Goldberg led the team with 19 points .Nick Teresky along with Jaden Ventura each added 17 points.
"We play with a lot of energy and intensity with the help of (senior guard) Michael Lombardi and (senior guard) Julian Saltzman, our bench captain," said Goldberg.
The Warriors blew out Lawrence, 91-47. Nick Teresky, who is also a standout in football and lacrosse, had his best game with 29 points.
The team suffered their first conference loss against Bethpage, 57-47. The top performer for the Warriors was — Jaden Ventura with 16 points, including three 3-pointers. Nick Teresky also added 14 and Brandon Goldberg had 10.
The Warriors now head to the playoffs where they hope to gain a county title.