Junior Lacrosse Star Madison Taylor Commits to Northwestern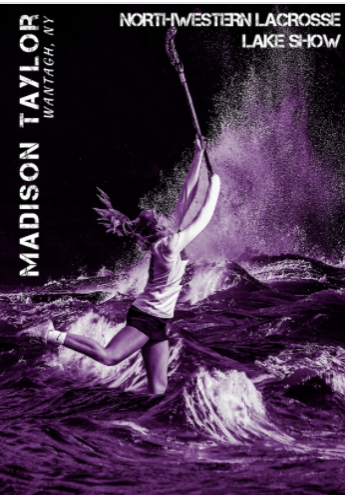 Junior Madison Taylor has officially committed to the University of Northwestern where she will continue her academic and lacrosse career.  The extremely prestigious university has a well-known lacrosse program composed of top-ranked athletes in which Madison will fit right in. Although she will pursue lacrosse at the collegiate level, her years at Wantagh High School have proved that she is a reputable athlete in multiple sports. Whether it's on the lacrosse field, basketball court, or soccer field, she has shown what hard work can do for an individual. 
Madison began playing lacrosse in the second grade. When discovering her love for the sport in sixth grade, she made the Long Island Top guns, an exceptional travel team. "I think playing travel lacrosse really helped prepare me mentally and physically for the rest of my life. It taught me many valuable life lessons," says Madison. Through her years in travel, she has expressed an undying passion for her love of the sport. Her coaches have had an especially large impact on her game, pushing her to be the absolute best player she can be. She says, "Being coached by Shannon Smith taught me everything about the game of lacrosse. She put me in pressure situations during the game to help prepare me for the future." Alongside her coaches, Madison also gives thanks to her parents, who have supported her along every step of the way.
Madison made the varsity lacrosse team as a freshman. Despite her age, she shined through on all ends of the field. She tallied a total of 55 points (48 goals, 7 assists), making her the leading scorer of the team. While everyone was excited to see her performance as a sophomore, her season was unfortunately canceled due to the pandemic. Through this difficult time, Taylor continued working hard to stay in shape in hopes for everything to return to normal. She says, "I give a lot of credit to my brother. He really pushed me to stay motivated during everything that was going on. We went to our trainer's house and worked out with him three times a week in the backyard and overall just made the most of what we had. Additionally, my brother and I would often go to Cedar Creek and race each other in sprints on the turf. I also continued to make sure I was doing wall ball and shooting to keep up and even better my lacrosse skills." 
Madison referred to her recruiting process to be both exciting and overwhelming. "It wasn't like I expected considering I didn't get to have any official visits because of COVID, but I visited all the schools I was interested in within two weeks. The process went much quicker than I expected but I was lucky enough to have many options and Northwestern gave me everything I wanted in a college."
Although Taylor had an extremely impressive resume, receiving an offer from such an esteemed school still felt surreal. She explains that her main goal has always been to attend a college that has the ability to win a national championship, and with a commitment to Northwestern, holding up the victorious trophy seems closer than ever. When questioned about what made Northwestern the school of choice, Madison states, "I chose Northwestern because the coaches (Kelly Hiller, Scott Hiller, and Shelby Fredericks) made me feel that I would be a valuable part of their team on both the offensive and defensive ends of the field. After getting to know the girls on the team, I knew it was a great fit for me." 
Aside from lacrosse, the school offered many other accommodations that helped push Madison to her final decision. While playing the sport she loves, she will be receiving a top education. She also loved the campus, specifically the indoor facilities and the location of it on Lake Michigan. Madison expresses her excitement to play alongside some of the best players in the country. "Before I even committed, the girls on the team got in touch with me and were so nice and welcoming. This made me feel comfortable attending a school that was far from home. I just can't wait to meet everyone in person."
For all the athletes with dreams of attending a competitive school, Madison advises, "Always work hard and control what you have the ability to control. Throughout the process, I've dedicated a lot of time to get to where I am now, and to see it all pay off was a great feeling." There is certainly a bright future ahead of Madison Taylor, and it will be exciting to see her develop at the collegiate level.