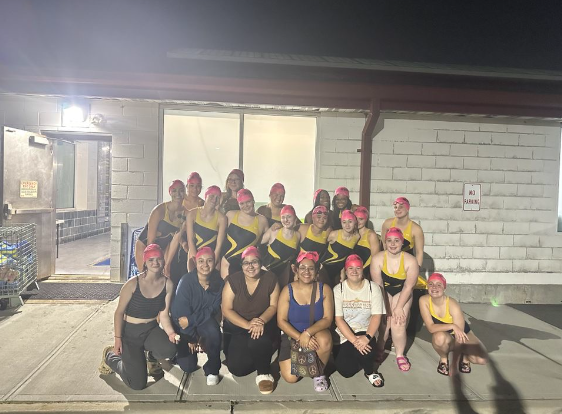 If you see a close-knit group of girls donning "Westagh" swim caps this fall, that is the Wantagh Girls' Varsity Swim Team hitting the pool. In collaboration with the West Hempstead Girls' Varsity Swim Team, this group of young athletes is diving, swimming, and cheering their way to the top!
Captains Isabella Sclafani and Maggie McLoughlin can consistently be found leading cheers before meets, as well as assisting more novice teammates with their dives, kicks, and strokes. According to McLoughlin, who has been on the team since her freshman year, "it is such a great atmosphere, and all the girls support each other in and out of the pool." The team has been found participating in fun spirit days, from sparkly mermaid makeup to cardigans and long skirts (meant to replicate the fashion of Coach Heather Jones) to pink swim caps for Breast Cancer Awareness Month. With such an accepting and driven community, the Girls' Swim Team is making waves.
Although the team's overall record against other schools may not be in their favor, the team is still very competitive in the local swimming community. Captain Isabella Sclafani has qualified for the Nassau County Championships in her 100 meter breaststroke, and team members are setting personal records left and right. The season may end in the beginning of November for the Girls' Varsity Swim Team, but their love for swimming and keeping Wantagh pride high is like none other.
Off the blocks, and into the pool: go Wantagh!