The New Norm for the 20-21 School Year. . .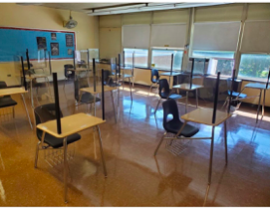 As the new school year kicks off, many students are unsure of how to feel and what to expect. By now, all of us have attended school in person or virtually. And what a difference it is! I am sure I can speak for the rest of the school that coming in is much better than staring at a computer screen all day. Sure, the setup is different, masks are mandatory, and lunch is six feet apart, but attending school brings back a feeling of normalcy that we as students have been craving for the past couple few months. 
The first two days of virtual learning were quite different. I would have never imagined logging into a computer for school! As I stared at the screen, yawning, at 7:41 on my first day of virtual learning, I was not sure how the day would go. Since sitting down all day makes me tired, I decided that during the four minutes in between classes I would get up and do a quick stretch hoping that would give me some energy. I hope I keep that system going. 
I thought that virtual learning was going to be the biggest obstacle this school year, but I was wrong. Having to do virtual school in the same house as your sibling is another story. On our off periods, we stay quiet so the other is able to concentrate. Each day, we have to switch our locations around the house just so it's fair for the both of us. Having a younger sibling who is taking the same classes as you did means she is asking for help and the inside scoop on the teachers, their grading system, tests, and more. I am not sure if I love or hate the attention she is giving me! However, it is a learning experience for all, no matter if you decided to be all virtual or participate in the hybrid system. 
The last challenge of this new school year is Schoology. Even though all of us were easily able to navigate through Google Classroom, a switch was made. But if we can get through a global pandemic, we can easily learn a new system right? At first, I was very confused with Schoology but now, on the fourth day of school, I think I am pretty comfortable with it. 
Who knows what will be in store for us for the rest of the school year, but I know that if we all keep our attitudes and spirits high, it will be a great year no matter the circumstances.  We are very fortunate to be able to attend school in the first place even if it's for two to three days a week. This school year is going to be a trial and error course, but as a school community, we will grow stronger by the day.