"Rent" is Wantagh High School's Highest-Quality Theatre Production Yet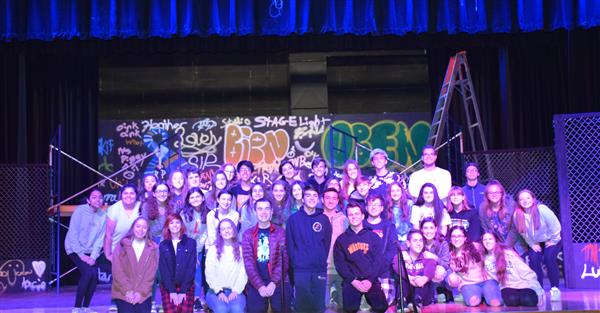 Wantagh High School's Advanced Drama troupe put on a production of "Rent: School Edition," a version of the hit Broadway rock musical, November 20-24. Mrs. Naughton directed, as usual. The performers all did a remarkable job filling the characters of the show with energy and enthusiasm as they portrayed their roles.
Rent is loosely based on the opera "La Bohème" by Giacomo Puccini, though it takes place in New York City and centers on a group of artists struggling with survival and forming identities and lives for themselves all while trying to avoid contracting AIDS, the disease that swept the world in 1989 when the musical takes place. Gabe Cruz starred as Mark Cohen, the aspiring filmmaker and main protagonist who is roommates with HIV-positive rockstar Roger Davis, portrayed by John Sileo. Roger's love interest Mimi was played by Kyra Orgass, and James Degnan played Benny, the landlord. 
The musical also featured Aidan Schroh as Tom Collins, a brilliant professor with dreams of opening a restaurant in Santa Fe; Chris Murale as drag queen Angel; Katriana Koppe as performer Maureen and Ellie Breen as Joanne. Each and every cast member was phenomenal in their role, and the set (which was rented) was extremely well-designed, complementing the actors' lively performances. The majority of the dialogue in the show was set to music in rock-opera style. The singing of the rousing rock tunes was in-tune and the emotion in the singers' voices was apparent, and the dance numbers were elaborate spectacles featuring on-the-spot synchronization. The energy radiating from the cast oozed into the audience and after each and every song, there was roaring applause. 
The show was choreographed by Mrs. Kim Davis with assistance from Ellie Breen, who played Joanne as mentioned earlier. Delaney Skelton, an ensemble member who served as a backup dancer in the song "Over the Moon," also created a video played during one scene where Mark and Roger play a video. James E. Brown served as vocal director.
The show drew an incredible turnout over the four days and five performances. Numerous local businesses sponsored the show: Home Comfort Assistance, Inc; IT Suceess LLC; Kristofer Buckle; Realty Advisors; My Own Car Guy; Spotlight Productions; Jovia Financial Credit Union and The Tietz Family Foundation.