Boys Soccer Team Nets Conference Title and County Top Seed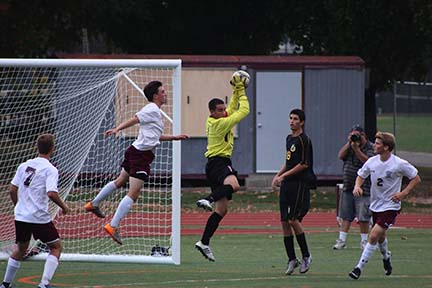 The 2013 Wantagh Boys' Soccer team finished the regular season with an 8-1-2 record and a conference championship. They earned the No. 1 seed in the Nassau County Class A Tournament.
In the first round of the playoffs the Warriors defeated Clarke 2-0 at home. Chris Palas scored his first varsity goal in his first varsity game off a header on a cross by Chris Pieri for the gamewinner. Lucas Neroda gained an incredible 10th shutout of the season, thanks to Wantagh's control of the ball and centerback Joseoph O'Halloran leading a strong defensive effort.
Wantagh will host No. 9 seed Bellmore JFK on tomorrow, October 29 at 2:30pm in the quarterfinals with the winner advancing to the semifinals on Friday at 6:00pm at Hofstra University.
The Warriors were led this season by senior tri-captains Neroda, O'Halloran, and Patrick Quigley. "Pat's speed and versatility make him once again one of the top soccer players in New York State," said long-time Wantagh coach Thomas Liguori.
Quigley has played every position this season, short of goalkeeper. Neroda and O'Halloran were the architects of Wantagh's brilliant defense. Daniel Palazzolo, Jack Mazzer, and freshman Michael Quigley (Pat's brother) have played consistently well on defense, too.
"Defense has always been our foundation," said Liguori. "If they don't score, they can't win." Junior Jonathan Alter has provided the punch for the Warriors offense and has netted eight goals this season. Junior Chris Taibi has been solid all season in the midfield, controlling the flow of the game. "Chris has been a beast for us," said Liguori. Jordan Sabinsky has logged most of his time at central midfield for Wantagh and his play compliments Taibi's and those around him. Chris Pieri has done a consistent job up and down the sideline defensively and offensively for Wantagh. Mike Derham and Chris D'Costa have also provided support off the field.
Alexander Kaufmann and Anthony Testa provide a nice chance of pace as forwards for Wantagh. Testa recorded a goal and an assist in Wantagh's win against two-time defending state champion Jericho. "We gained a lot of confidence from the Jericho win," said Neroda of his 2-0 shutout on September 30. "That's when we knew we could be conference champs."
Frank Reilly and Casey Terrel have seen action this season, the duo paired up for Terrel's goal against Plainedge on October 15 – one of many electric moments this season for Wantagh. Matt Lipski added his long throw, speed, and cannon of a right foot to the Wantagh offense. Goalkeepers Sebastian Cobo and Bobby Hegarty play a key role to Wantagh's success. "They are two of many players we have whose contributions go unnoticed in the box scores," said Liguori. "They are integral not only to how well Lucas has done, but our overall team mojo."
Wantagh brought up four players from their junior varsity squad that finished the regular season with an impressive 8-2-1 record. "It's a lot of players to bring up but we wanted to reward them for their hard work this season," Liguori said. Sophomores Greg Krassner, Chris Palas, and Matthew Palazzolo were brought up along with 8th grader Nick Cerasi.
The Warriors entered the playoffs for the first time since losing 1-0 in the 2010 County finals. "It's strange to think not one of these guys have played in a playoff game," said Liguori. "The good thing is we've experienced the highs, the lows, and everything in between during the regular season." The Warriors are hoping it is that experience that will propel them to a fourth county title.