You Can Now Bingewatch All 14 Seasons of Grey's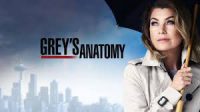 "It seems like a great show, but I would never be able to watch all 15 seasons of it," many non-viewers say about the famous show Grey's Anatomy, a drama set in a hospital.  Netflix has released all 14 seasons and the 15th is currently playing on ABC. The viewers of Grey's Anatomy have gotten to know the characters, and really relate to them even if they are not doctors.  
The show has been on since 2005, and attracts all different kinds of audiences.  According to cnbc.com, the main character Meredith Grey, played by Ellen Pompeo, makes $20 million per year.  Pompeo is one of the highest-paid actresses in the industry. She never intended to be on a show for this long.
The love story of Derek Shepherd, played by Patrick Dempsey, and Meredith Grey was one that everyone admired.  When Derek died, the whole atmosphere of the show shifted since he had such a big impact of Meredith's life and the hospital.
Shonda Rhimes, who also created Scandal, Station 19 and many other popular shows, never fails to hit the audience with a tear-jerker.  Especially on the season-finale episodes, leaving the end of the season on a cliff-hanger. Each season ends with events from shootings, deadly plane crashes,  car accidents. Episodes are never boring, there is always a new patient with a crisis, or an usual diagnosis. Not only can the audience learn about the doctors' lives, but the patients as well if they are on the show for multiple episodes.
The show revolves a lot around the pediatric part of the hospital, which creates many more emotions for the audience.  In the first episode of Grey's Anatomy, the chief of surgery said to the core interns, "only two of you will survive." The main character Meredith Grey, thought her and her "person," Cristina Yang, would be the two surviving in the end, but that's not what the show resulted in.
Many viewers can agree that Shonda Rhimes has taken the viewers through a long journey of the past years of the character's lives.