Girls' Soccer Captures First-ever Conference Title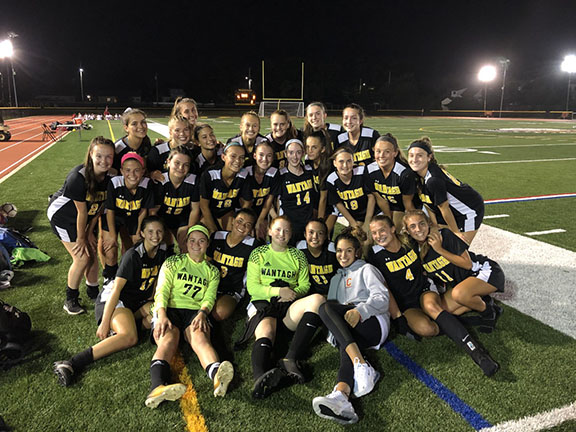 Gina Calise, Correspondent
October 25, 2019
The Warriors came in for a battle. Starting the season, they took on the defending New York Class A 2018 state champions, Valley Stream South, also the team that eliminated the Warriors in the semi-finals in last year's Nassau County playoffs. 
The game was played at Wantagh's homefield, under the lights on September 11. And the Warriors ended the VSS's winning streak by defeating it, 4-2. Wantagh got goals from three different players: Matiana Valdez, Morgan  Flaherty, Frankie Capuano. In addition there was an own goal. Jenna Kaufmann made 10 saves in net for Wantagh.
Under the guidance of coach James Polo and assistant coach Jordyn Klapper, Wantagh Soccer alumnus, and Stony Brook Women's Soccer alumnus, the Warriors have been trained well.
 "This group of girls is relentless, hard working, motivated & determined to make a statement for themselves and get the respect that they deserve," Coach Klapper said. "I am so proud of how far they've come and truly believe that this team can and will go far this 2019 season."  
The Warriors have received great leadership, on and off the field, from the senior captains Bella DelaCruz, Flaherty, Noel Polack, and Olivia Vinson. 
 Offensively, it was very important for these girls to work together and use every opportunity they got to add numbers to their side of the scoreboard. A total of 23 goals have been scored in the Warriors' regular season.
Flaherty, an Adelphi Soccer commit, has scored numerous goals for the Warriors throughout this season. ¨We got off to a slow start but the team worked hard at practice to get better which paid off in the regular season, we look forward to carrying this momentum into the playoffs,̈  Flaherty said.
The defense is led by Vinson and goalkeeper Kaufmann. Kaufmann has made over 100 saves this season.
The Warriors took first in Conference AB1 with a 6-2-4 record. It is the first conference title in school history. They finished just ahead of Garden City, who they tied twice 0-0, earning the top seed in the county Class A tournament. 
"Being on the lower side of the conference last year to winning it this year is a tremendous achievement by our team,"  senior Kaitlyn Quigley said.
Girls Fall to Seaford in Playoffs
While the soccer team had the No. 1 seed in the Nassau Class A playoffs, they had four key players suspended for the first round game against Seaford, and they lost 3-2 in overtime, October 26.
Seaford did come into the game with a 16-1 record playing in a weaker division than Wantagh, which was in the top Division in Class A. However, Seaford had to win a play in game and was the No. 17 seed in the tournament.
The loss ended an eight-year streak of winning its first playoff game for Wantagh, and stopped the dream of reaching its first ever Nassau County championship game.