Sullivans Capture Top of Class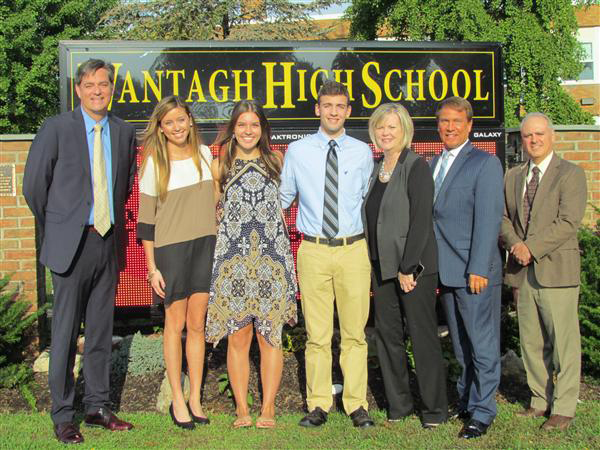 Grace and Thomas (T.J.) Sullivan (who are not twins) captured the titles of Valedictorian and Salutatorian for the graduating class of 2017. Students speculate who will be the two students with the highest GPAs. Grace has a weighted GPA of 106.53 while TJ has a weighted GPA of 105.7.
Grace and TJ are very hardworking, committed students who have amazed peers with their high intelligence. They also both won the Class Best: "Most Likely to Succeed." and "Most Likely to Be Studying."
This year's Valedictorian, Grace Sullivan, is a National Merit Semi-Finalist and Advanced Placement Scholar with Honor. She is also the President of the National Science Honor Society as well as President of both the student government and the Science Olympiad team. She is Vice President of the National Honor Society. She is a member of the National Art Honor Society. Other awards she has received include, the Harvard Book Award and an Honors Award with the Long Island Science Congress. She was accepted into the Stony Brook University's Simons Summer Research Program.
She was named a two-time winner in the Daughters of the Revolution Essay Contest. Grace is the co-captain of the Rube Goldberg team and winter and spring track teams. She is an All-Conference and All- County athlete. Grace volunteers with Rolling Thunder, a program for students with disabilities that encourages them to become more active.
Next Year, Grace will be attending Washington and Lee University in Lexington, Virginia. She will be majoring in Biology along a Pre-Med track. She is also interested in attending medical school. She will be continuing to run on track and cross country teams and will be participating in a five week summer research program in a bioinformatics lab.
"Being named valedictorian has been really great recognition of the work I've put in these past four years," says Grace Sullivan. "I worked hard for myself to see what I could accomplish on my own. Since there are many truly bright and talented students who could have earned the title, I didn't set any expectations. So when my dad called me to tell me the news, I was in shock. It was hard to believe at first, but I was so happy and proud."
When asked if she had any advice for students who may be struggling to keep up with their grades she said, "I would tell students that if they're willing to put in the work, earning higher grades is definitely possible. The amount of effort you put into a class corresponds with the scores you receive. If a student has the drive and the proper work ethic, he or she will be very capable of raising their grades."
Our Salutatorian, T.J. Sullivan, is the vice President of both the National Honor Society andNational Science Honor Society. Also, he is the recipient of the University of Rochester Bausch and Lomb Award for Science. T.J. is a AP Scholar with Distinction and a Nassau County Basketball Athlete. He also plays the cello and competes with the Mathletes, Rube Goldberg and Science Olympiad teams. He is the founding member of the Wellness Club and a member of International Outreach. Sullivan also volunteers at Rolling Thunder as well as Camp Anchor. (Answering the Needs of Citizens with Handicaps through Organized Recreation.)
In the fall he will attend Georgetown University and major in Human Science.